Seeking refuge from refuge-seekers
Leafing through a book edited by Ranabir Samaddar on Indian policy on refugees since 1947, ANJANA RAJAN finds how Delhi is treating its migrant population, whether all of them are refugees and whether definitions make a difference... .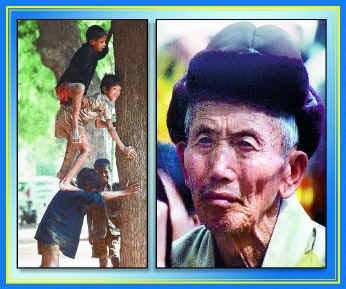 A STEEP CLIMB: Some migrants have a fun time in New Delhi. The face off the migrant to the capital. Photos: Sandeep Saxena.
FROM THE wounded souls of Partition to the Tibetan influx of 1959, the Bangladeshi refugees of 1971 to the economic migrants who continually sneak across India's porous borders, from the Sri Lankan Tamils fleeing the civil war to the displaced persons from all the troubled areas within India, the city of Delhi has played host to these and more categories of refuge seekers over the past half century of Indian Independence. Ranabir Samaddar, editor of "Refugees and the State: Practices of Asylum and Care in India, 1947-2000", a Sage publication that was released in New Delhi recently, points out that although every group has its own causes and characteristics, and the magnitude of the crisis may vary, they are all "a vulnerable group of foreigners forced to flee to another country, who are in need of protection by another Government."
The book, with essays by Paula Banerjee, Samir Kumar Das, Ritu Menon, Subir Bhaumik, K.C. Saha and others, covers the major refugee influxes to India since Independence with case studies illustrating Government responses and policies. Delhi, like other major metros, daily attracts hundreds of job seekers abandoning their peaceful village existence for life in the big city. The Indians have legal rights to do so, but those from neighbouring countries often slip in without papers. Delhi is used to huge slum clusters of Bangladeshi settlers - providing domestic and blue collar services to residents - and though they are seekers of refuge from the poverty of their past life, the technical term for them is not refugee but economic migrant. Samaddar - a prolific author on refugee issues, human and minority rights and peace in South Asia, founder-member of the Calcutta Research Group, founding editor of "Refugee Watch" and Director of the Peace Studies Programme of the South Asia Forum for Human Rights, whose books include "The Marginal Nation - Trans-border Migration from Bangladesh to India" and "A Biography of the Indian Nation, 1947-1997" among others - clarifies the definitions: "The economic migrant is one who migrates due to economic reasons primarily," while "the asylum seeker is one who seeks asylum, for political reasons such as threat to life, torture, political discrimination, deprivation of liberty, of political and civil rights, etc. The asylum seeker seeks refuge. There is international law governing conditions of seeking and granting refuge; the refugee cannot be pushed back or thrown out, etc. This is a huge subject of critical importance, because the law governing the refugees is by nature international, relates to both human rights and humanitarianism."
Another category, displaced persons, "are forcibly displaced - internally displaced, or transborder migrants under conditions of duress. Again, there are international principles enjoining upon states to ensure rights of the internally displaced persons." While the law holds these technical differences as sacrosanct, he adds: "In reality the forced population flow is mixed and massive, which makes these differences increasingly fruitless. The economic and the political, mixed nature of violence, internal and international flow, human rights and humanitarian protection - these instances of transgression and crossing of boundaries must be seen from the point of justice and not primarily through legal categories, which are considered as holy cows." While he says, "by and large, a combination of care and power rules the norms of hospitality," of the Indian Government, it "has no clear-cut policy on these; ambiguity is the mark of its policy.
IT HAS treated sometimes leniently the shelter seekers, at times it has treated the illegal immigrants harshly. Indian policy towards the asylum seekers is guided by acts relating to foreigners, citizenship, and passport, and not by a policy on the refugees. India is not a signatory to the 1951 Convention. Indian courts have tried to include human rights norms in judging on the asylum seekers' right to seek shelter and the duty of the Indian state to give shelter."
The observations of a Delhi Police official whose work includes deporting illegal Bangladeshi migrants fall in line with Samaddar's remarks. "These days there has been an increase in the efforts to catch illegal migrants. There are midnight raids and the suspects are taken to the area police station for verification of their identity. If their relations or others come to vouch for their being Indian citizens they are let off. We send back only those who voluntarily admit they came here illegally. There are pending writ petitions pleading that they are Indian citizens. In such cases, or if all members of a family that came together are not present there, we have to release them. Also, pregnant women, sick persons or drug addicts are not sent back. There are strict rules from the FRRO - the office that deals with the verification and registration of foreigners - and politicians pressurise us with Parliament questions, accusing us of forcibly deporting bonafide Indian Bengalis. Actually the Government spends a lot on these people. The train ticket costs Rs.400 - this apart from their daily upkeep at the Seva Sadan, Shahzadabad where they stay till departure. A whole bogie of the train is booked for them. 60 are taken per batch, and Delhi police provides over 25 escorts including at least two women constables or head constables from each district. There are two or three trains a week these days. From my district alone since January, 900 illegal immigrants have been deported."
The irony, says this official, is that these deportees often return "by the same train as us, bringing a few more with them". This is due to corruption among the border security forces of both countries. Also, "they have become wise to our methods, and families split up across the city at night to avoid being caught together in the raids". With a see-saw battle between humane philosophy and selfish nationalism, political hawks and vote bank opportunists, as also between pragmatic town planning and the lure of a cheap illegal workforce, it seems Delhi's refuge seeking population - legal, illegal, ideological, political or economic - will continue to exist as it always has, in a state whose only certainty is its uncertainty.