Born as a facilitating group in support of
the peace movement in West Bengal, particularly during the Third Joint Conference of the Pakistan-India People's Forum for Peace and Democracy - an unprecedented public gathering of 400 peace activists of the sub-continent for 4 days in Calcutta in 1996 - the Mahanirban Calcutta Research Group is now known as the Calcutta Research Group (CRG). The founders were a group of researchers, trade unionists, feminist thinkers and women's rights campaigners, academics, journalists, and lawyers. This was to be a forum for policy discussion and analysis on issues of democracy, human rights, peace, and justice.
Developing as a forum of mostly young public activists and socially committed researchers, CRG is now well-known for its research, dialogues, and advocacy work. It has carved out a niche for itself in the scholar-activist world for its policy studies on autonomy, human rights, women's dignity, issues of forced displacement and migration, peace and conflict resolution, citizenship, borders and border-conflicts, and other themes relevant to democracy. The emphasis that CRG places on the East and the Northeast in its research and dialogues has now resulted in a strong network of scholars, activists, and institutions in the region.

Recent Publication/s

Book

»

Forced Migration & Media Mirrors

Edited by Sibaji Pratim Basu

view more

Journal

»

Refugee Watch: A South Asian Journal on Forced Migration

(42)

view more

»

Index of Refugee Watch (1998-2011)

view more

Research Papers

»

Body/Law/Technology: The Political Implications of Society as Apparatus (PP-63)

by Itty Abraham

view more

Brief news, reports, views
and comments on issues of
forced displacement

CRG Requires a Research & Programme Associate

Mahanirban Calcutta Research Group requires Fellow/Research and Programme Associate for its research in the area of migration studies with special emphasis on Forced Migration on a consolidated pay of Rs. 22,000-30,000/- per month (depending on qualification and experience) initially for a period of one year. The candidate must have Ph. D. or M.Phil degree in Social Sciences or humanities with publications. The candidate should be preferably below 40 years in age. Candidate/s must have proficiency in English and readiness to do fieldwork. Experience in the field of human rights and human development will be an added qualification. Selected candidate/s will be expected to join with immediate effect.
Detailed applications along with two recommendation letters may be sent by post or e-mail within 15 October 2014 to the Office Secretary, Mahanirban Calcutta Research Group,GC-45,Sector–III,First Floor, Salt Lake, Kolkata 700106 ( chatterji@mcrg.ac.in ) ; phone: 91-33-2337-0408; Fax: 91-33-2337-1523). Applicants are requested to consult MCRG website www.mcrg.ac.in for information on the institution. Any enquiry on this will be welcome.
International Conference on
Gender, Empowerment and Conflict in South Asia

Kolkata, 7-8 November, 2014
(Friday, Saturday)

The Mahanirban Calcutta Research Group (MCRG) and the Peace Research Institute Oslo are jointly organizing the International Conference on "Gender, Empowerment and Conflict in South Asia". This is the final conference for a collaborative project entitled Making Women Count for Peace: Gender, Empowerment and Conflict in South Asia. Funded by the Research Council of Norway's INDNOR and NORGLOBAL programmes, the project aims to generate new knowledge and debate on women's empowerment and the challenges facing implementation of UNSCR 1325 in India and Nepal. With a focus on Northeast Indian experiences and a comparative look at Nepal, the project addresses the role of women in local governance and politics, particularly within the context of peace and security processes.
Read more, CLICK HERE
for conference schedule... CLICK HERE
Mahanirban Calcutta Research Group
GC-45, First Floor, Sector-III
Salt Lake City, Kolkata-700 106, West Bengal, India
Phone: +91-33-23370408, Fax: +91-33-23371523
Email: mcrg@mcrg.ac.in; Web: http://www.mcrg.ac.in



Best Viewed at : IE- 5+ || Size: 1024x768 px


www MCRG
Fifth Critical Studies Conference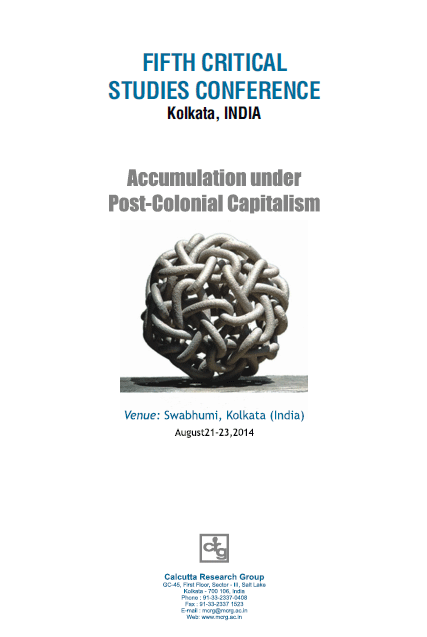 For Details

CLICK HERE