About calcutta research group (crg)
Born as a facilitating group in support of the peace movement in West Bengal, the Mahanirban Calcutta Research Group is now known as the Calcutta Research Group (CRG). The Third Joint Conference of the Pakistan-India People's Forum for Peace and Democracy (1996), an unprecedented four-day public gathering of 400 peace activists of the sub-continent in Calcutta, marked the beginning of CRG. The founders were a group of researchers, trade unionists, feminist thinkers and women's rights campaigners, academics, journalists, and lawyers. This was to be a forum for policy discussion and analysis on issues of democracy, human rights, peace, and justice.
Developing as a forum of mostly young public activists and socially committed researchers, CRG is now well-known for its research, dialogues, and advocacy work. It has carved out a niche for itself in the scholar-activist world for its policy studies on autonomy, human rights, women's dignity, issues of forced displacement and migration, peace and conflict resolution, citizenship, borders and border-conflicts, and other themes relevant to democracy. The emphasis that CRG places on the East and the Northeast in its research and dialogues has now resulted in a strong network of scholars, activists, and institutions in the region.
Webinar Discussion on Ukrainian War, Refugees, and Human Rights in a Global Context

for detail... Click Here || for registration ...Click Here
MCRG-360 INFO collaboration on migration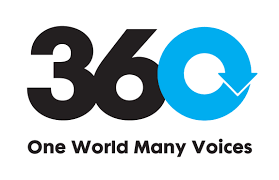 360info is an open-access global information agency that reflects critical opinions on the contemporary challenges in the field of environment, geopolitics, mental health, conflicts, war and displacement. This global media initiative – a bridge between universities and media -- is hosted by Monash University, Australia.
Mahanirban Calcutta Research Group in collaboration with 360info brings to you a series of special reports on the changing face of migration. These reports by researchers from across the globe can be accessed here
Refugee Watch & Refugee Watch Online
Refugee Watch, the biannual, peer-reviewed and refereed flagship journal of the Calcutta Research Group that offers a space for debate on refugees, forced migration, displacement, statelessness and related issues will be merging with its online co-publication, Refugee Watch Online, which primarily presents brief news, reports, views and comments pertaining to the human rights of the forcibly displaced. Refugee Watch and Refugee Watch Online will be operating from a common dedicated website shortly.
COVID 19 AND MIGRANT WORKERS

Essential Links on Calcutta Research Group's Works on Migration and Forced Migration Studies
recent Publications

Digitized Migrants : EUROPE ASIA RESEARCH PLATFORM ON FORCED MIGRATION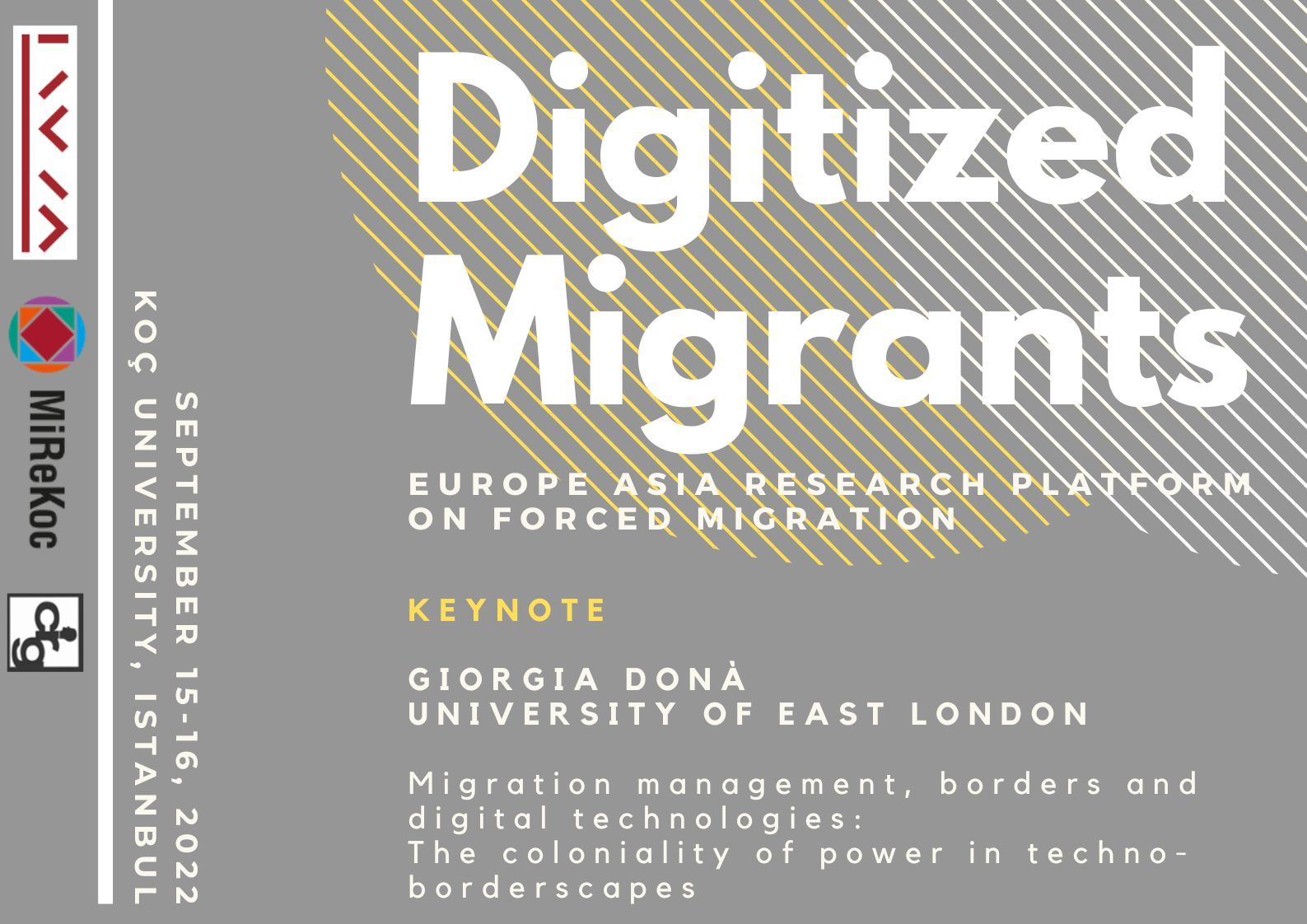 Call for Papers – Refugee Watch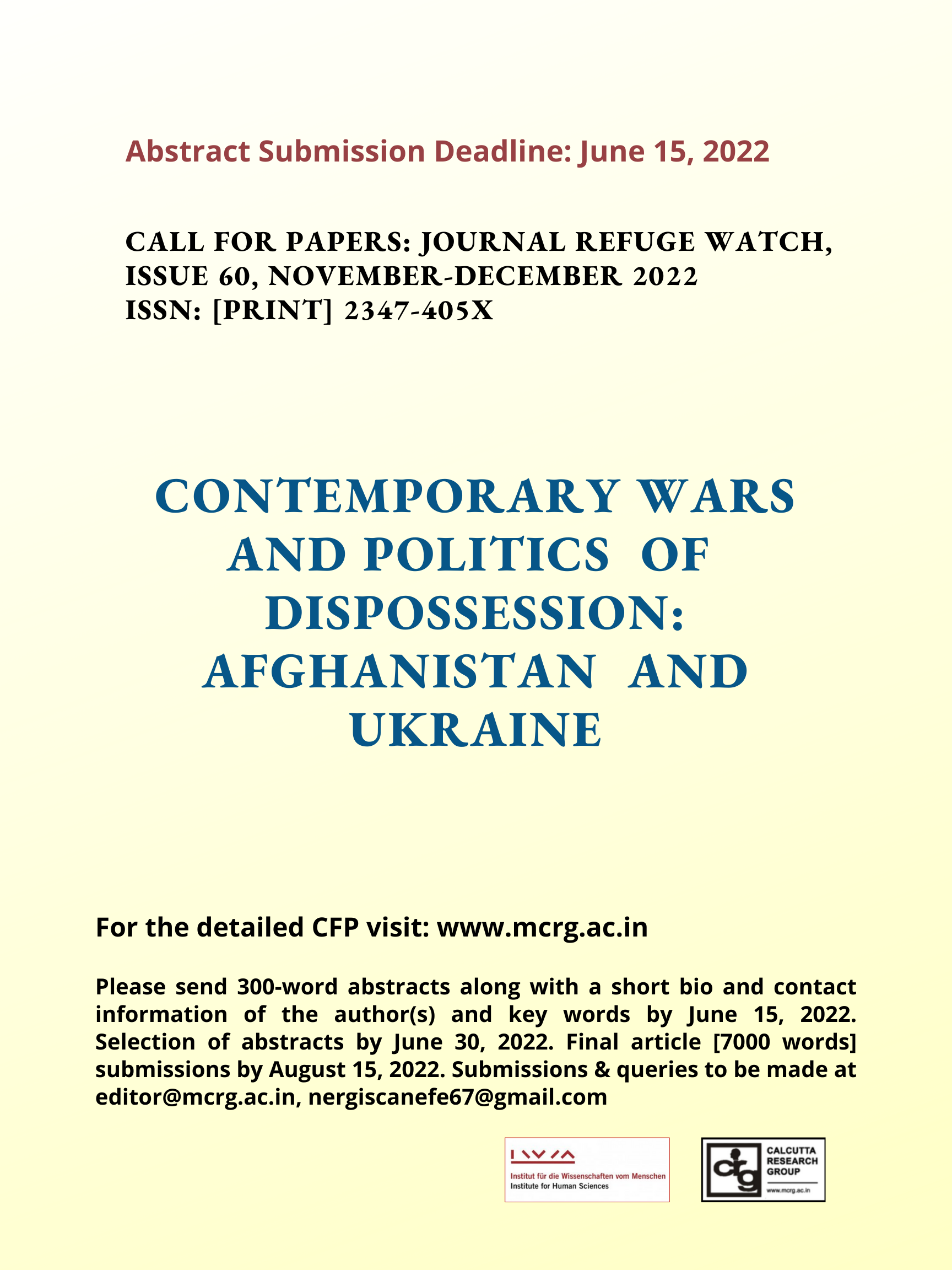 Special Issue on Contemporary Wars and Politics of Dispossession: Afghanistan and Ukraine
As a post-colonial society emerging from decades-long protracted conflicts, Afghanistan confronts a complex legacy of past crimes and structural violence in addition to a complex web of mobilities. Communist rulers, Soviet occupiers, rural resistance fighters, Islamist parties, the Taleban movement, Pakistani volunteers, al-Qaeda members, power-seeking warlords, and the anti-Taliban coalition all contributed to the litany of abuse and turmoil since 1978. In the larger context of the continued subjection of the Middle East and North Africa to an extraordinary condensation of the old and new aspects of imperialism and neocolonialism, the pertinent effects of the occupations of Afghanistan and Iraq endure in tandem with novel forms of international, external and regional interventions...Read More
Seventh Annual Research and Orientation Workshop on Global Protection of Refugees and Migrants 2022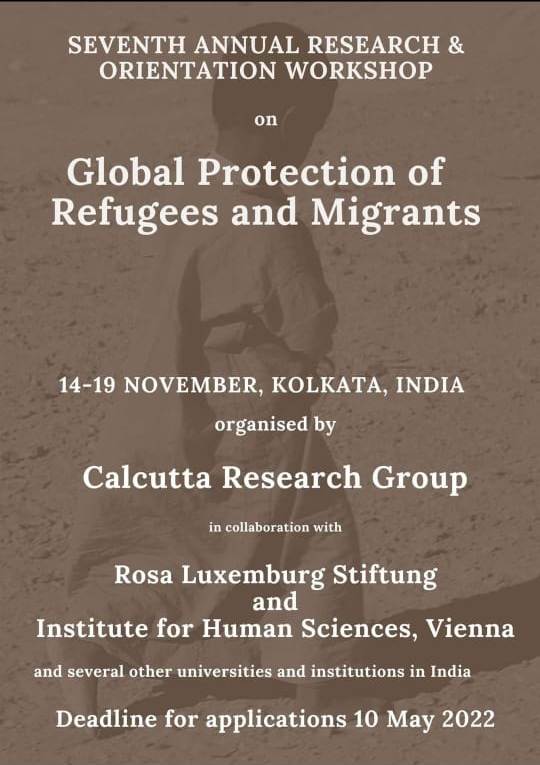 Calcutta Research Group (CRG) is pleased to announce the Seventh Annual Research and Orientation Workshop on Global Protection of Refugees and Migrants (2022) to be organized in collaboration with the Rosa Luxemburg Stiftung, the Institute for Human Sciences, Vienna, and a number of universities and other educational institutions in India. The Workshop to be held in Kolkata, India, from 14 November to 19 November 2022 ...Read More


Play List
| | |
| --- | --- |
| | |
| Reading Refugees Reading Migration: Lectures from the (Online) Orientation Course for College and University Teachers | A CRG Series in the Corona Times: Six Lectures on Migrants and Refugees |
previous CRG Webinars, 2020

Previous CRG Webinars, 2020... CLICK HERE
Audio and Video Resources

Archives of Audio and Video Resources .... CLICK HERE
Index of Living Archive on Covid-19 & Migrant Worker .... CLICK HERE
Krishna Trust

Late Krishna Bhattacharya was a founder member of Calcutta Research Group. Krishna Trust, set up in her memory, works for the education and health of women. CRG plans to collaborate more deeply and meaningfully with the activities of Krishna Trust. This will be an humble effort on the part of CRG towards providing service to our society. For details of Krishna Trust.
KOLKATA DECLARATION

Follow Ranabir Samaddar on

Mass Movements and Naxalbari, (Anustup, 2017) ...

CLICK HERE

CLICK HERE

Recent activities

South Asia Consultations: Media, Information, and Participation in Displacement and Migration Settings How free is the media?
A report on findings and recommendations

For details

CLICK HERE

One day workshop on 'The Migrant in the electoral time: a study of Bihar, Bengal and Assam, 2020-2021'; Date: 30th June 2021

For details

CLICK HERE